iLike beta launch - a review
Last night at 10pm,
iLike
launched their beta. iLike is a social music discovery service funded by Sun founder Vinod Khosla.
iLike, like other social music sites such as
last.fm
has a substantial web presence as well as an iTunes plugin. The iTunes plugin runs as an iTunes 'drawer' a sidebar that adds iLike context information such as information about 'related artists' as well as info about your iLike 'friends'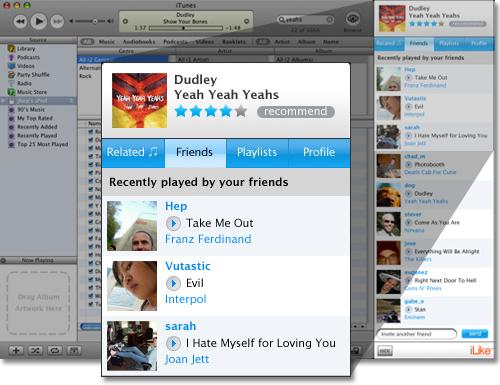 When you play songs in itunes, info shows up in the iLike sidebar. For instance, if the 'Related' artist tab is selected, when you play a song by Death Cab for Cutie, you'll see songs by artists such as the Postal Service, ColdPlay and The Shins in the 'related artists' tab.
I found the 'related artists' to be more than a bit disappointing. To me, the purpose of a 'related artists' recommender is to help me find music that I don't know about that is similar to what I'm listening to now. The iLike 'related artists' falls short in a few ways. First, the recommendations are artist related, not song related, so no matter what song I play by an artist I'm given the same recommendations. If I play the Beatles 'Helter Skelter' or 'Michele' - I get the same recommendations although they are very different songs. Second, the recommendations for the most part were completely obvious. I like it best when a recommender gives me some recommendations from artists that I've not heard of before, but the iLike recommendations were (with some notable exception - see below), were so predictable it was as if they were scraped from the
All Music Guide
related artists.
Here's a set of recommendations received.
| | |
| --- | --- |
| Seed Artist | Recommendation |
| Led Zeppelin | Pink Floyd, the Beatles, Jimi Hendrix, AC/DC, Black Sabbath |
| Beatles | Pink Floyd, Radiohead, U2, The Rolling Stones |
| Weezer | Green Day, Foo Fighters, Jimmy Eat World, Nirvana, The Beatles |
| Johnny Cash | Willie Nelson, Elvis Presley, Waylon Jennings, Hank Williams, Merle Haggard |
| Fiona Apple | Tori Amos, Sarah McLachlan, Alanis Morissette, Sheryl Crow, Norah Jones |
| Yes | Rush, Genesis, Pink Floyd, King Crimson, Kansas |
I did get a clunker recommendation however. When I was playing Emerson, Lake and Palmer's Karn Evil 9 - a progressive rock masterpiece - I was given the recommendation 'Grandma Got Run over by a reindeer' by Elmo & Patsy, as well as 4 other christmas songs. Clearly outside the realm of a reasonable recommendation. iLike promises that their recommendations will get better as they get more users. That's the classic social recommender cold-start problem - you need lots of users to get good recommendations, but in early days, before you have lots of users, you'll generate crappy recommendations. I'm sure their recommendations will get better - and I hope that eventually they can tell me things that I don't already know - maybe a NiN recommendation for that Johnny Cash fan once in a while.
iLike also offers a set of 'free music by new artists' in the 'related' panel. I found the music to interesting, but generally not very well related to the seed artist. Again, probably a symptom of the cold-start problem. Nevertheless, it is a good source of free indie music - I downloaded the song 'Sad Reminders' by 'the Winter Sounds' - funny thing was that iLike couldn't find any related music to this song - iLike recommended this song since it was related to some Pink Floyd that I was listening to, but when I was listening to the song, iLike didn't seem to know anything about it.
If you go to your iLike home page on the web, iLike will give you another more detailed set of music recommendations. This, for me, was a mix of free mp3s as well as songs I could buy at iTunes. The top recommendation was ... you guessed it ... 'Grandma got run over by a reindeer'. It would be nice if iLike could tell me why they are recommending a particular song (much like Amazon or Pandora do). Words like "We are recommending 'Grandma got run over by a reindeer' because you like annoyingly-cute christmas songs'." Or .. "We are recommending 'Grandma got run over by a reindeer' because it is similar to Emerson Lake and Palmer's opus about nuclear armageddon." would be helpful.
iLike uploads your iTunes play history to the iLife server, and makes this visible to all. If you are a privacy fanatic (or even just slightly concerned about privacy), this may be a bit disconcerting. For instance, you can look at my music play history here:
http://www.ilike.com/user/Paul_L2
. I took a quick browse through the
iLike users
- its a who's who of music discovery - there's Tom, CTO of Pandora, a whole gaggle of the last.fm crew, Toby from musicmobs,
Mr. DJ Alchemi
and others. (BTW, Does DJ really want us to know that his #2 song of all time is "Can't get you out of my head " by Kylie Minogue?)
Probably the neatest thing that iLike has to offer is the ability to browse through other people's music history - this harkens back to the day of the original napster - where you could browse through the music collections of thousands of people. Of course, the difference is that unlike napster, when you are browsing you can listen to 30 second low quality clip, but you can't download the song without forking over $.99 to iTunes. iLike does have a neat compatibility score. When you are browsing through another listener's collection - you are shown a score that shows how well matched your music collections are. iLike touts this ability to browse through other people's collections as one of their key differentiators - but last.fm has been doing this for quite some time - here's my listening history on last.fm:
http://www.last.fm/users/lamere
Growing Pains -
iLike is a beta and as such there were a few snags here and there. When I first installed iLike, the sidebar drawer was all scrambled. It looked like all of the tabbed panels in the sidebar were visible at the same time. A restart of iTunes seemed to fix that. Another glitch - if I'm listening to a song in iTunes, and then click on a song in someone's collection to preview it, the iTunes song doesn't stop playing - so I end up hearing two songs at the same time. Hey, but this is a beta, so I'm sure these things will be fixed in no time.
So here's a rundown of what iLike does:
Adds an iTunes plugin that uploads your play history
Gives somewhat obvious related artist recommendations
Offers a set of song recommendations

Lets you find other users like yourself
Lets you browse the music collections of others
Give you recommendations for 'related' free-to-download music
I think iLike has done well on execution. The web site and the plugin are quite slick - and eye-friendly - but so far, I haven't seen them do anything that isn't already being done by other social sites such as
last.fm
. They don't do social tagging. They don't do playlist generation. They don't offer music charts. They don't expose any of their data with a web services API. You can only listen to 30 second music clips. Like
QLoud,
they are suffering from the cold-start problem - until they get a large enough user base they'll continue to recommend 'Grandma got run over by a reindeer' to progressive rock fans. Like QLoud, I don't think excellent execution is going to let them catch up to last.fm - with its deep set of social data. Still, it is just a beta, iLike has good funding, an it looks like they have an excellent technical and management team, so I'm sure iLike will be doing some interesting, innovative things in the music discovery space soon. They certainly bear watching.
Update - I

am

having fun with iLike - browsing through other people's music tastes is interesting and somewhat addictive.