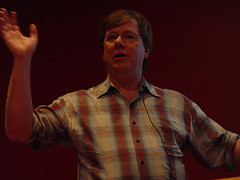 This is my last post to the Duke Listens! blog. I've been posting to this blog for nearly 5 year starting with my first post on
May 3, 2004
. At that time, I was still working on speech engines, and the blog name was "Duke Speaks!". A month later, I wrote my first post that hinted at my interest in
music information retrieval
.
Blogging has been good to me. It serves as my backup memory. My nearly 50-year-old neurons may not remember everything, but I can usually remember if I've blogged about something, and a re-reading what I wrote refreshes my memory. So, for instance, if I can't remember the difference between the Idiomag API and the YES API, I can just read what I wrote.
Blogging has been a great way to get connected with folks. When I write something about a new Music 2.0 startup, I'll often get an introductory email from the CEO or CTO of the company the next day - I have a pretty good virtual rolodex due to my blogging.
Blogging has helped me improve my writing. Writing something every day that will be read by a thousand or so people has been a good exercise. I'm not sure if my writing is any better than before I started blogging, but it certainly is faster. I used to have a real problem with writer's block (and I still do when it comes to writing papers), but now blog posts seem to flow much more easily. Blogging has also helped me improve my thinking. By writing down my ideas on a topic I'm forced to think things through.
Blogging has given me a thicker skin. On the Internet, people like to disagree and criticize -especially anonymously. I've received my share of criticism, some gentle, some harsh and some downright offensive, but after 5 years, the critics don't bother me to much, and I can just reject and delete the offensive ones.
Some stats for the blog:
| | |
| --- | --- |
| Total posts | 1079 |
| Total comments | 1143 |
| Daily uniques | ~2,000 |
| Google reader subscribers: | > 300 |
| Where readers live | 55 different countries |
I want to thank all of my loyal readers for visiting Duke Listens!. I especially want to thank the many folks who've contributed ideas and links. I especially want to thank Steve, Jeremy, Zac and Oscar who have been particularly faithful in providing me with blog fodder.
And so with that, I write my last post of Duke Listens! I hope you all will continue to follow me on Music Machinery. Duke Out!