Music genre is hard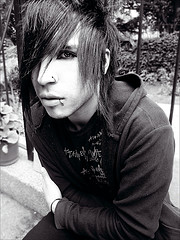 Go to last.fm and search for
tag emo
and Last.fm will happily show you that the top emo bands are Fall Out Boy, My Chemical Romance, Jimmy Eat World, Brand New, Death Cab for Cutie and Taking Back Sunday. Pretty easy right? Next, go to the Wikipedia and look at the
List of Emo Artists
- they have a list of 75 or so bands that have 'been referred to as, or had their music described as emo'. Again, that seems to be pretty straightforward. But emo is not so simple. Just take a look at the
Wiki discussion page for the list of emo artists
- you'll find a debate as vigorous and vitriolic as the great emacs vs. vi debate of the 80s, the paper vs. plastic debate of the 90s and the Gervais vs. Carell debate of 00s all put together.
Some excerpts:
Emo is chaotic music. Emo is a form of hardcore punk. Emo is closely related to screamo. Pop rock is not. Who started this whole emo thing? Rites of Spring. Neon White, go listen to Rites of Spring. Tell me the difference between them and Panic! At the Disco. They just don't sound anything alike. I like all music, and pop rock, but I have enough sense to know that their is a huge line between emo, and mainstream music. Therefore, Wikipedia itself, is unreliable
hm.... im a bit puzzled here... the article is named "list of emo band", yet there's not a single emo band in the entire list....
My Chemical Romance is not emo. Alexisonfire is not emo, Fall Out Boy? just posers. Real emo music is emocore emo violence, screamo, emopunk, indie/emorock
all Out Boy May not be emo but they are not possers
THREE DAYS GRACE not!!!! emo!!! they are POST GRUNGE!!!!
MCR IS NOT EMO
And the discussion just goes on and on. People can't agree what emo is.
Photo (CC) by Feel the Fever.