Offices of Music 2.0 - AOL
AOL Music is a music portal that provides online radio, charts, videos etc. AOL also produces Winamp, one of the most widely used music players. Jason was kind enough to send me to pointers to photos at the AOL offices.

AOL is a big company with some pretty funky quarters. Here's the main lobby. It's very nice.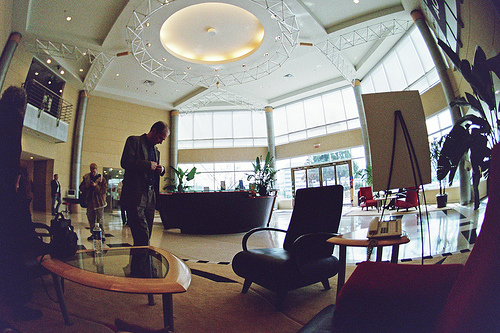 The corridors of AOL power - AOL likes long halls ... this one goes on forever ...
Now for some offices ... it's cubicle land - but with some natural light, funky ceilings and 'power cubes'
Notice the low partition between cubes here ...
Another cube farm in the heart of AOL music...
If you are lucky enough to have a closed office - it will look something like this:
Like we have at Sun, AOL has some informal space (we rarely use ours at Sun)


An AOL conference room (I would have thought they would just use AIM)