ZuKool - A Music recommender
ZuKool is a music recommender that shuns the "wisdom of the crowds" approach taken by most music recommenders. Instead, ZuKool provides song-level based recommendations based upon what the song sounds like. The ZuKool interface is quite simple to use. You just select a song or two that you know, click on the ZuKool red-eye and ZuKool will generate a playlist of songs that sound similar. You have some control over the type of songs recommended - you can restrict the recommendations to be only from music of the same style, or you can draw music from all styles, allowing for more serendipitous discovery of music. In some ways, this is similar to what Pandora does, recommending music based upon song level similarity, but ZuKool takes a very different approach. First of all, ZuKool is not a streaming internet radio service. They provide recommendations and opportunities to purchase music, but you can't turn it into a recommender-radio like you get at Pandora or last.fm. Second, Pandora uses humans to perform their music analysis. Although ZuKool doesn't explicitly say how they determine their song similarity, it is a pretty safe guess that they are using some sort of automated techniques to analyze their music.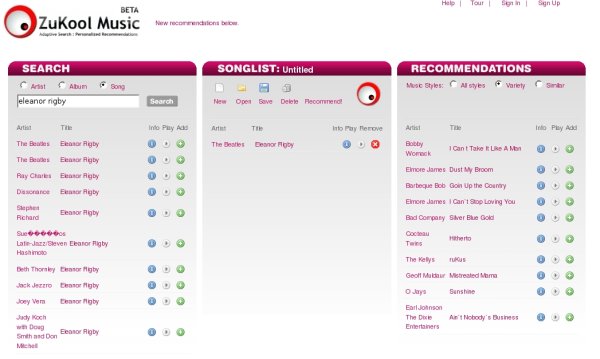 The User Interface
The ZuKool user interface is well-designed and easy to use. One really nice aspect is that there are no advertisements cluttering up the interface. I had no problem figuring out how to use the system. They use an appropriate amount of Ajax - the system felt very interactive, with out lots of gratuitous (and CPU swallowing) animations.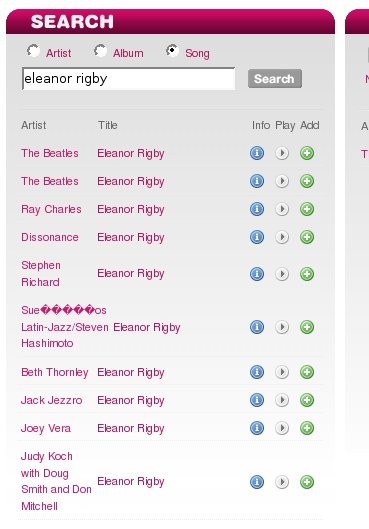 Using ZuKool is straightforward. Search for a an artist or song that you like, add it to your Songlist, click the scary red eye and you are given a set of songs that sound similar to your set of seed songs. Along the way, you can listen to 30 second clips of the songs (one glitch, the music didn't play on my linux box, but it worked fine on my mac), get more info about a song, and even purchase the album from Amazon or CD Baby.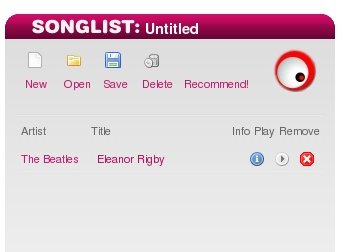 Although ZuKool seems to have lots of music in its collection (they claim about 600,000 songs), the majority is not mainstream music - much of the music looks to be from CDBaby.

The Recommendations:
The ZuKool recommenations were a bit hit or miss. I first tried the song Eleanor Rigby by the Beatles. I was pleased to see a recommendation for a Mozart String Quartet and a recommendation for the string-laden Taking my life in your hands by Elvis Costello. Those are the types of recommendations that highlight the strengths of a content-based recommender - they can help you make serendipitous music discoveries by not following the well-trodden path of the mob. However, we moved from the serendipitous zone to the WTF zone pretty quickly. The rock anthem Stairway to Heaven yielded the song from the original Cinderalla soundtrack A dream is a wish that your heart makes - and the Louis Armstrong classic "Jeepers Creepers". Jeepers Creepers indeed!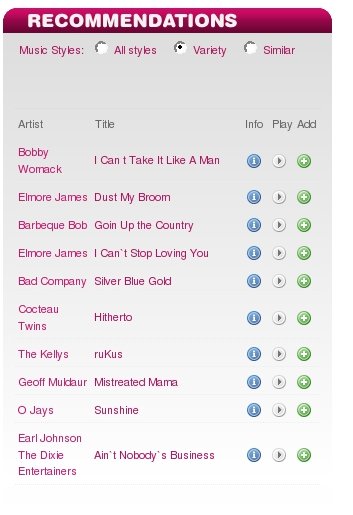 Music similarity is hard, there are many ways to define similarity: genre, timbre, structure, mode, instrumentation, style, year, lyrics - all contribute to song similarity. It is early days for automatic content-based recommendations - of the commercial systems that I've looked at ZuKool looks to be one of the better ones - but it will be a while before these automated systems match what the human-powered systems like Pandora can do. ZuKool Chief Scientist Ian Wilson says
Obviously we still have a long way to go and many improvements to make. One major improvement coming soon is the ability to focus our initial recommendations based on your feedback (grading and additions to your songlist) which we have right now but is not yet operating to speed. We will also be adding user functions (social systems) to make the whole experience more community focused and fun.